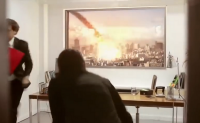 Agencies and big corporations do not believe in 'cool factors' in advertisement anymore. Instead, to really stand out of the crowd, the idea has to be really out of the box, something that makes you laugh, talks about it or at least make you look twice. Below are 15 of the best marketing campaigns of 2013 that we find. Let us know which is your favourite and what you think is the most effective by commenting below!

Telekinetic Coffee Shop Surprise
What if telekinesis was real? How would you react? Our hidden camera experiment captures the reactions of unsuspecting customers at a New York City coffee shop as they witness a telekinetic event.
LG Ultra HD TV Prank – End Of The World Job Interview [Meteor Explodes]
This job interview is really just a prank that ends with some great reactions! A clever prank / ad for their 84 inch ultra realistic HD TV.
WestJet Christmas Miracle: real-time giving
Thanks to a team of merry WestJetters and the power of technology, we've learned that miracles really do happen.
#PubLooShocker – Leo Burnett United Kingdom/London
Leo Burnett London's new Pub Loo Shocker campaign for the Department for Transport's THINK! campaign is turning heads.
Heineken – The Candidate
Standard questions. Prepared answers. If job interviews are all the same, how to find the right talent among 1734 applicants?
Funny Carlsberg TV commercial 2013 – Best Friends
The new Carlsberg TV ad 2013. would you help your best friend stuck in a poker game without any money and some nice guys arround?
Elevator Murder Experiment – DEAD MAN DOWN
What would you do if you walked into a murder in progress? Two guys asked themselves the same question and staged a murder-in-progress inside a New York City elevator. Hidden cameras recorded people's reactions. What would you do?
LG IPS display Hot Girls Bathroom prank (video) Stage Fright
The legend goes that a lot of men have issues in the men's room when somebody is looking at them. To test just how lifelike the new LG IPS 21:9 UltraWide monitor is, LG did a special psycho-physical test in the men's room. Now let's see who can fight STAGE FRIGHT…
NIVEA Deo: Stresstest
To launch its Stress Protect deodorant, NIVEA conducted a stress test at the airport. Unsuspecting people were persuaded by their friends to go to the airport under some pretext. When they arrived at the airport, they found out that the police were looking for them and had a warrant out for their arrest.
A study was conducted in advance to make sure that a brief moment of stress would not pose a problem for the selected individuals. They were accompanied by a close friend or family member and were surrounded by actors during the event. Afterwards, all of the participants were given support, shown around and thought it was exciting to look behind the scenes at this kind of hidden camera event.
Pepsi MAX & Jeff Gordon Present: "Test Drive"
Jeff Gordon and Pepsi MAX go to a car dealership where a disguised Jeff Gordon takes an unsuspecting car salesman on the test drive of his life.
Heineken – The Decision
One moment you're ordering a Heineken in a Mexico City bar. The next, you're rushing to get yourself to the Champions League final. If you dare to decide on the spot. And if you use your imagination and inventiveness. Only then you will be able to actually make it…
All eyes on the S4 – Swisscom
Find out how people in Zurich used their eyes to win a Samsung Galaxy S4 of their own. It's inbuilt Smart Pause function means the S4 knows when someone is looking at it. The longer a participant stares at the screen, the bigger the discount is. But watch out! The game ends the moment eye contact ends. An S4 was handed out for free after 60 minutes.
Photoshop Live – Street Retouch Prank
One Photoshop magician, one bus stop and lots of hidden cameras.
Coke Zero Presents: Zero Clue
Coke Zero wanted to know what it takes for people to notice the difference between Coca-Cola and Coke Zero, without conducting another boring taste test.
Introducing Zero Clue! An interactive taste test that got Coca-Cola drinkers unknowingly enjoying a Coke Zero thanks to a unique and innovative color-changing can.
Heineken | Departure Roulette
Your itinerary's fine, but we think a last minute change of plans is much more exciting. We found a few people at JFK Airport who'd agree. Would you play Departure Roulette?