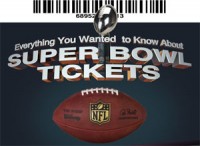 The majority of Super Bowl tickets are distributed to the NFL teams, with each team receiving 17.5 percent of the tickets. The non-participating teams receive 1.2 percent; and, the host team will receive five percent. The remaining tickets are controlled by the NFL. It distributes those primarily to NFL affiliated companies, the broadcast network, corporate sponsors, media, charities, fans and the host committee. Only about one percent of the tickets go to fans. What fans? Lucky ones. The annual Super Bowl random drawing determines exactly which fans.

Via: Only Infographic
Do you know what to wear to the Super Bowl?