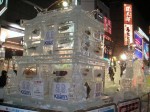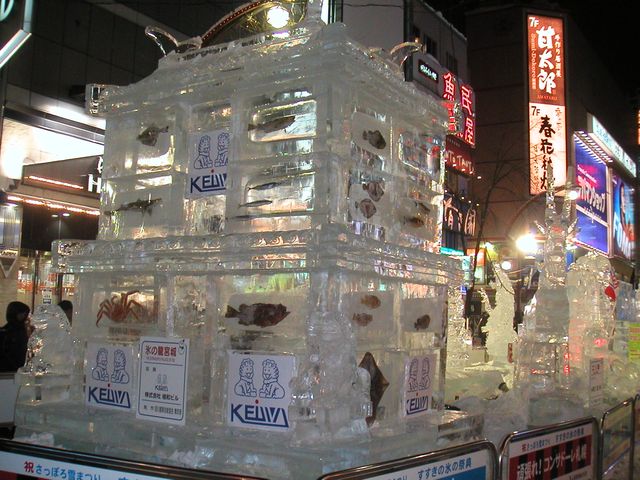 The Sapporo Snow Festival, one of Japan's largest winter events, attracts a growing number of visitors from Japan and abroad every year.
Every winter, about two million people come to Sapporo to see the hundreds of beautiful snow statues and ice sculptures which line Odori Park,the grounds at Satoland, and the main street in Susukino.
For seven days in February,these statues and sculptures(both large and small) turn Sapporo into a winter dreamland of crystal-like ice and white snow.
The Snow Festival began in 1950, when local high school students built six snow statues in Odori Park. in 1955, the Self-Defense Force joined in and built the very first massive snow sculpture, for which the Snow Festival has become famous for now. The Festival has grown from these humble beginnings to become one of the biggest and most well known of Hokkaido's winter events.
The Snow Festival is considered to be a festival of international-caliber.
Odori Park stretches from east to west through the center of downtown Sapporo and represents the main festival site.here,you can see a variety of snow and ice sculptures, many of which have an international flavor. There are other snow stages located here and featuring a varienty of entertainment.
The Sapporo Snow Festival will be held at Sapporo Tsudome. At this site,one can enjoy the charms of winter in Hokkaido,including snow slides and mazes,the snow experience corner,and regional delicacies.
An ice sculpture show will be held in Ekimae-dori (Station Avenue) located between South 4 and South 7. Ice sculptures with real crabs, squids, and salmon are featured in this show. During the festival, a variety of events will be taking place at the Susukino site including the Ice Sculpture Contest and a special photo opportunity to see the Ice Queen.