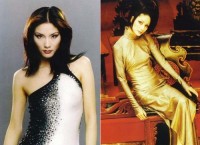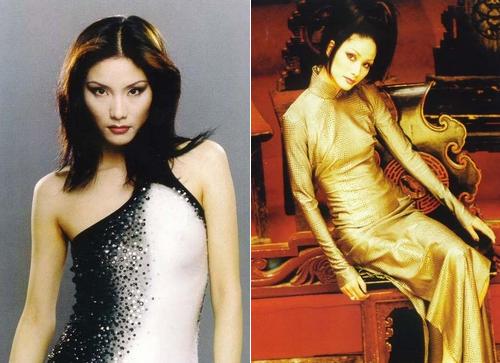 Modeling has become a flourishing industry in China since famous French fashion designer Pierre Cardin hosted the country's first fashion show in Beijing in 1979. The number of Chinese models has surged from a mere 11 in 1980 to nearly six million at present. However, in this somewhat cruel industry which seems suitable only for the youthful, only a handful can stand out from the pack to become highly-recognized at home and abroad.

When the domestic fashion industry was still in its infancy, Peng Li, a Beijing native, became the first Chinese model to be crowned at an international contest in Italy in 1988, and Ye Jihong, a model popular in '89, quit the industry one year later after winning a modeling contest on the Chinese mainland.
China.org.cn has compiled a list of China's top ten models since fashion shows were introduced in 1979:
10. Yu Na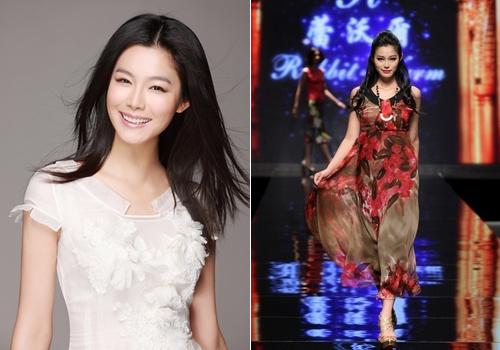 Born: Jun. 6, 1981
Height: 177CM
Measurements: 84/62/88CM
Yu Na was born in Guiyang, the capital city of Guizhou Province, and is a famous model-turned actress who appeared in Chinese TV hit series "How to rescue you, My love", "One Meter Sunlight", "Come Home" and many others. Yu won many local modeling contests, and was crowned New Silk Road Model Look China in 2000, making her a house-hold name overnight. In that same year, Yu was awarded the Best Asian Image Award at the 7th World Supermodel Contest held in France. Yu is well-known for her sweet smile and girl-next-door style.
9. Qu Ying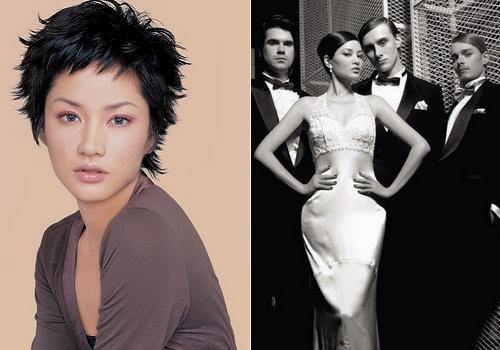 English name: Joie
Born: Jul. 2, 1971
Height: 175CM
Measurements: 84/62/89CM
Qu Ying is considered to be the most successful Chinese model during a career transition. Qu was born in Changde City, Hunan Province, and is a fashion model, actress, hostess and singer. She is the spokesperson for many global brands including Pantene and Maybelline. Qu began her modeling career in 1990, and was runner-up in the 1991 New Silk Road Model Look China. Also in that same year, Qu placed second at the 2nd China Super Model Contest, also known as the World Supermodel Contest China Selection.
Qu has appeared in a great number of Chinese films and TV series, including her most famous 20-episode "True Confession" series, with renowned Chinese male model Hu Bing acting as the protagonist. She also played in "Keep Cool" directed by Zhang Yimou, making her popular with Chinese college students.
8. Zhang Zilin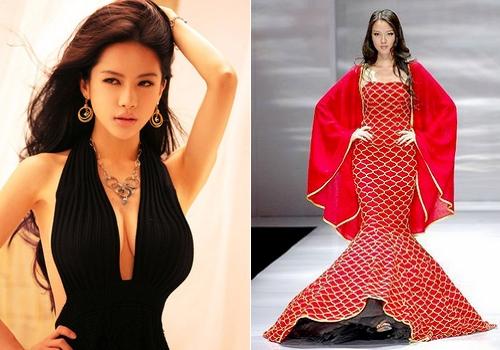 English name: Eilin (Eileen)
Born: Mar. 22, 1984
Height: 182CM
Measurements: 87/62/90CM
Zhang Zilin was born in Shijiazhuang, capital city of Hebei Province, and is a world-renowned Chinese model. Zhang graduated from the University of Science and Technology Beijing (USTB), and was the first Chinese to win the Miss World title in 2007. The beauty queen, who began her modeling career in 2003, was acclaimed as one of the top 10 best professional models in China in 2006.
Zhang has graced the covers of many preeminent fashion magazines and served as the spokesperson for famous brands such as L'Oreal Paris, Swarovski and China Merchants Bank. Zhang showed up in China's national publicity film in 2010, together with such Chinese celebrities as Yao Ming, Ding Junhui and Guo Jingjing.
7. Mo Wandan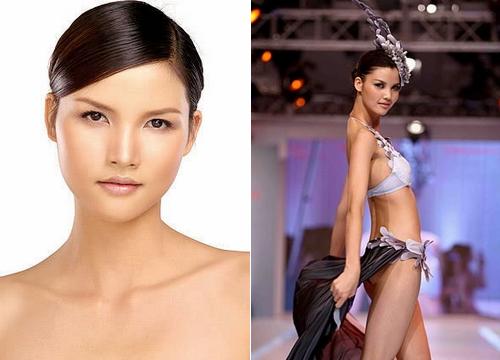 English name: Momo
Born: Jan. 29, 1987
Height: 180CM
Measurements: 83/62/89CM
Born in Yangjiang, Guangdong Province, Mo Wandan is a Chinese supermodel with unique facial characteristics different from those of traditional Chinese beauties. Mo made a sensation in both China and the world for her versatile performance on the catwalk. Mo has become a shining star since she won the China Model Star Contest in 2004.
Mo, the only Asian model to walk in all four international fashion weeks in 2008, was praised by prestigious fashion designer Giorgio Armani as "the most beautiful Asian model". Mo has graced the covers of FHM, Elle, L'Officiel and French. She also made the ad campaigns for Emporio Armani, Enrico Coveri, Martin Grant, Rocco Barocco and many other major labels.
6. Lv Yan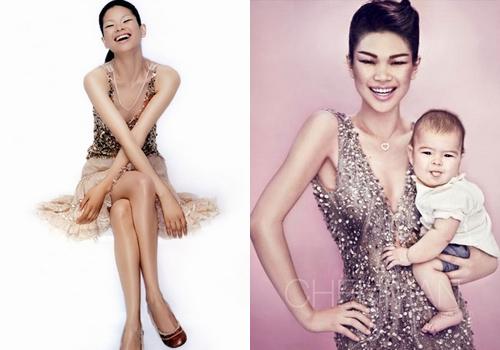 Born: Oct. 19, 1981
Height: 177CM
Measurements: 82/60/89 CM
Lv Yan is from a silver miner's family in De'an, Jiangxi Province. Lv began her modeling career in 1999, in which she was spotted by famous stylist Li Dongtian. Lv, with small eyes, a flat nose and a freckled face, is by no means pretty by the Chinese standards. However, the "ugly girl" grew up to become a supermodel on global catwalks. Lv went to Paris in 2000 when she was only 19 and rose to fame. In 2000, Lv won second place at the International Supermodel Pageant, the highest-ever ranking for a Chinese model in an international contest.
Touted "half angel and half devil", Lv always captivates audiences with her unique face and ever-changing enchanting performance. Lv has appeared on the covers of top fashion magazines including Elle and Cosmopolitan. She is also the face of various luxury brands, including Hermes and Benetton. Lv married a French investment consultant and gave birth to a son.
5. Liu Wen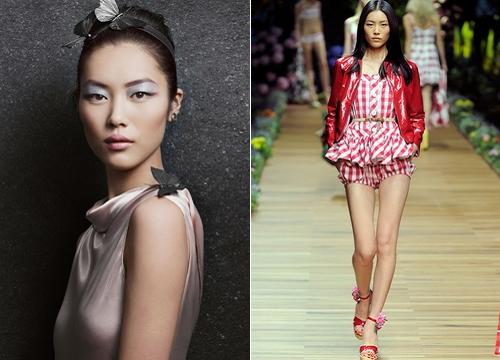 Born: Jan. 27, 1988
Height: 178CM
Measurements: 78/58/85CM
Liu Wen was born in Yongzhou, Hunan Province, and garnered overnight fame in 2006 when Marie Claire's creative director, Joseph Carle, was inspired when he saw her at a small-sized fashion show in Beijing. Liu, who originally dreamt of becoming a tourist guide, is now a favorite darling on Paris, London, Milan and New York catwalks, and can be found in prestigious fashion magazines and global luxury brands including Calvin Klein and Lane Crawford.
Liu was the first and only Chinese model to walk the Victoria's Secret fashion show for two years running between 2009 and 2010. In 2010, Liu became the first Asian face for cosmetic powerhouse Estee Lauder's campaign. The girl, with single-fold eyelids and an irresistible smile, was ranked 43rd among Askmen's Top 99 Women of 2012, the only Chinese face to appear there. Liu is ranked No.5 on MDC.com, the highest-ever position for a Chinese model.
4. Du Juan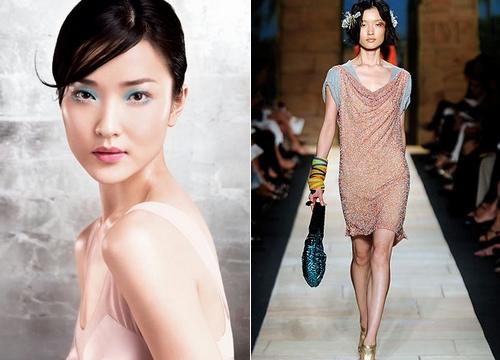 English name: Jennifer
Born: Sept. 15, 1982
Height: 179CM
Measurements: 83/60/89CM
Du Juan was born in Shanghai and is an internationally-renowned Chinese model. Du, a former ballet dancer, was crowned at the 2002 New Silk Road Model Look China. Du gained prominence in European fashion circles in 2006, when she became the face for five global fashion leaders, including LV, YSL, Roberto Cavalli, Gap and Swarovski. Du, touted a "Chinese beauty queen", became the first Asian face for the cover of Vogue Paris in 2005. Du, most renowned for her elegance and delicacy, has signed up with world entertainment management leader IMG.
3. Jiang Peilin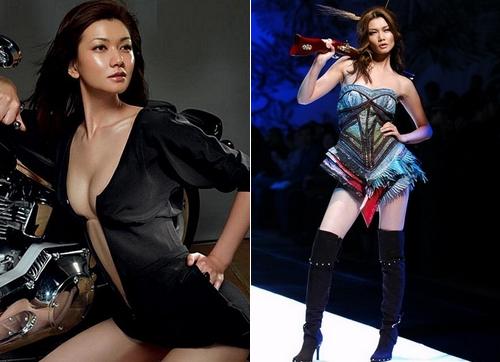 English name: Shirley
Born: Aug. 30, 1979
Height: 178CM
Measurements: 85/62/88CM
Jiang Peilin was born in Harbin, Heilongjiang Province, and is a volleyball player-turned supermodel. Jiang started her walk toward fame after placing runner-up at the 1999 Shanghai International Model Contest. Dubbed "the most talented Chinese model" by U.S. media, Jiang graced the covers of major fashion magazines and ad campaigns for many famous cosmetic products and costumes. Jiang is now a TV hostess and the CEO of an Internet company.
2. Ma Yanli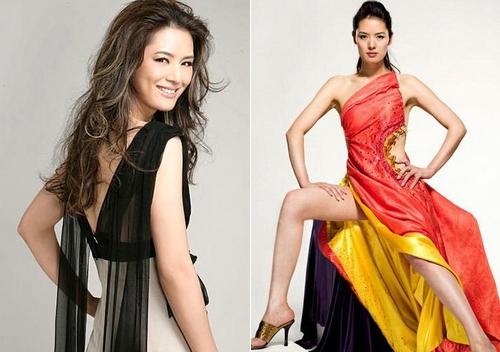 English name: Mary
Born: Nov. 25, 1974
Height: 178CM
Measurements: 87/66/91CM
Ma Yanli was born to a family of farmers in Zhoukou City, Henan Province, and is a renowned Chinese model, actress and fashion designer. Ma proved that a young girl can stand out from the pack with her beauty, talent and diligence. Ma, originally a provincial-level rowing champion, left professional sports to pursue a career in modeling in 1994. She won first place at the First Shanghai International Fashion Model Contest in 1995, and her increasing popularity with famous designers and top advertisers made her China's No.1 model between 1998 and 1999. Ma is now a fashion designer who has successfully created her own fashion brand-Mary Ma series.
1. Chen Juanhong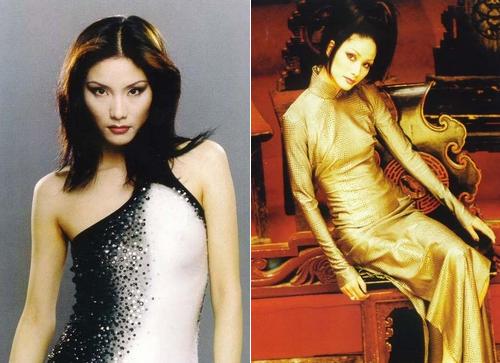 Born: Feb. 6, 1969
Height: 179CM
Measurements: 85/62/87CM
The history of China's fashion modeling industry would not be complete without mentioning Chen Juanhong, who is seen as the first Chinese model to go global. Born in Tongxiang, Zhejiang Province, Chen is a basketball player-turned professional model. She rose to fame in 1991 when she was crowned at the 2nd China Super Model Contest. One year later, she placed fourth at the 12th World Super Model Contest, making herself the first international supermodel from China in a real sense. Chen dazzled the audience with her cool but charming style on the catwalk. Chen has worked with many major fashion labels at home and abroad. Chen is now running her own model training school and modeling agency.