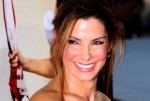 Sandra Bullock has been voted the top money making star of 2009 in Quigley Publishing's 78th Annual Poll of Exhibitors. Sandra Bullock is the first female to win since Julia Roberts in 1999. Bullock is the eighth woman chosen #1 in the Poll's 78 year history. She appeared in three films in 2009, The Blind Side, The Proposal and All About Steve.
The Quigley Poll, conducted each year since 1932, is an annual survey of motion picture theatre owners and film buyers, which asks them to vote for the ten stars that they believe generated the most box-office revenue for their theatres during the year. It has been long regarded as one of the most reliable indicators of a Star's real box-office draw because the selections are done by people whose livelihood depends on choosing the films that will bring audiences to their theatres. The Quigley Poll appears annually in Quigley Publishing Company's International Motion Picture Almanac and at www.quigleypublishing.com.
Johnny Depp placed second this year based on "Public Enemies" and a small role in "The Imaginarium of Dr. Parnassus." He was #1 in 2006 and 2007. Matt Damon made his second appearance in the survey, placing #3 with 2009 roles in "Invictus" and "The Informant!" Although George Clooney, placing #4, has never won in his seven mentions in the Poll, he had an extremely productive year with "Up in the Air," "The Men Who Stare at Goats" and "Fantastic Mr. Fox."(voice). Robert Downey Jr.'s performances in "Sherlock Holmes" and "The Soloist" helped him place #5. He was #2 in 2008.
Tom Hanks is #6, which marks the fifteenth time in the Poll since he first appeared in 1988, including five times as #1. Meryl Streep was in "Julie and Julia," "It's Complicated" and a voice in "Fantastic Mr. Fox" and placed #7, her third mention in the Poll. Brad Pitt made his fifth appearance coming in at #8, due to "Inglourious Basterds." 2007's "Star of Tomorrow," Shia LaBeouf scored #9 with "Transformers: Revenge of the Fallen" and Denzel Washington rounded out the Top Ten with "The Taking of Pelham 1 2 3."
Here is a list of 2009's top ten money making stars:
1. Sandra Bullock
2. Johnny Depp
3. Matt Damon
4. George Clooney
5. Robert Downey Jr.
6. Tom Hanks
7. Meryl Streep
8. Brad Pitt
9. Shia LaBeouf
10. Denzel Washington