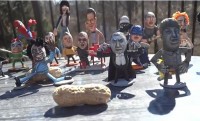 U.S. artist Steve Casino creates bizarre peanut versions of celebrities. He was eating peanuts one day, and he noticed that one of them was shaped a little bit like… Himself. He grabbed a marker and drew a cartoon version of himself onto the shell. Then he showed it to his friend who laughed at it. So he decided to go a little further.


Mr Casino has created nut versions of Alfred Hitchcock, James Brown, Johnny Cash, Frankenstein's monster, Johnny Rotten, Sid Vicious from the Sex Pistols, Dr Who, Wonder Woman, Andy Warhol, Spock from Star Trek, Batman, Elton John and Count Dracula on the inch-high legumes. He makes the creations by sanding down the surface of a monkey nut and using a miniscule brush to painstakingly apply acrylic paint, a process that can take up to 10 hours. Arms, legs, and props are then created from wood, bamboo or dense foam and pushed into the shell to complete the models.
Each finished design costs between $300 and $500 to buy depending on how complex it is.