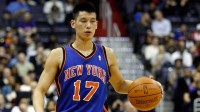 American professional basketball player Jeremy Lin was not drafted in the 2010 NBA Draft. Played his rookie year with the Golden State Warriors. Played in the 2010 Vegas Summer League with the Dallas Mavericks, appearing in all five games and averaging 9.8 points, 3.2 rebounds, 1.8 assists and 1.20 steals in 18.5 minutes. In line to become the 42nd Ivy League player to appear in an NBA Game, and the first since 2002-03. The NBA had not drafted an Ivy League player since Jerome Allen of Penn in the second round in 1995. The last Ivy League player to play in the NBA was Yale's Chris Dudley in 2003, while the last Harvard player was Ed Smith in 1954.
In February 2012, he unexpectedly led a winning streak by New York Knicks while being promoted to the starting lineup, which generated a global following known as Linsanity. I can bet on online betting sites that is until a month ago no one even bet $ 1 on Jeremy Lin.
This infographic looks at Jeremy Lin's meteoric climb from undrafted and overlooked bench warmer to NBA sensation.
Via:
Only Infographic