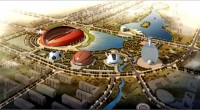 A 150-meter-tall hotel designed in the shape of a ping-pong racket will be built in Huainan city, East China's Anhui province, as part of a complex to tap the wealth of the sports industry.
The hotel, located in a planned Olympic park covering an area of over 1,000 mu (67 hectares), has an estimated investment of 300 million yuan. It will feature three parts, the top designed for sight-seeing, the middle will house guest rooms, and bottom used for conference facilities.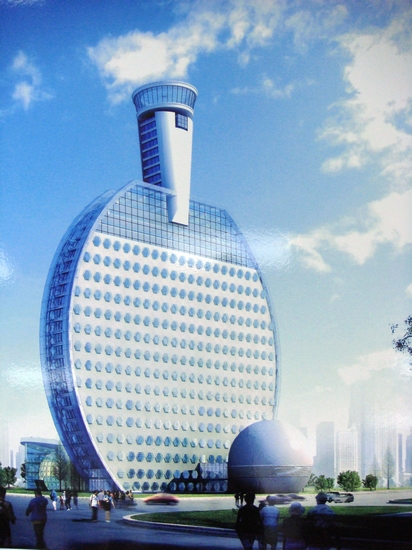 "The design idea is from ping-pong. An erected ping-pong racket has a perfect architectural shape for a hotel," said Jin Chang, director with Huainan Municipal Bureau of Sports.
The buildings were all designed by Mei Jikui, a renowned architect for sports structures. Supporting facilities such as a swimming pool are also included in the plans.
Four buildings in the park are also under construction, namely an American football-shaped main stadium, a volleyball-shaped natatorium, a football-shaped gym stadium and a basketball-shaped stadium. The overall investment of the park is said to reach 1.8 billion yuan in three phases within five years.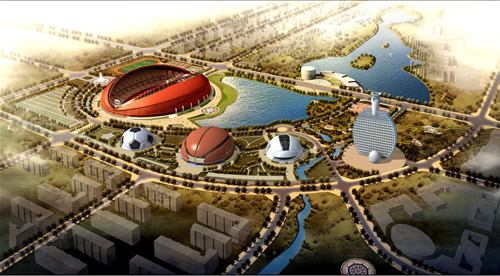 The sports bureau has signed an agreement with China Sports Industry Group, stating that multiple sports games with international standards will be held in these stadiums in next 20 years.
Huainan has a population of 2.4 million, and the average income for its rural famers in 2010 was 5,746 yuan ($876). The local government in Huainan is developing the hotel an investment project, but will fund construction of all sports stadiums in the park.