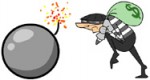 Two bank robbers who blew themselves up trying to make a sizable withdrawal from an ATM have been declared the 2009 winners of the Darwin Awards – while the first woman to be nominated came in third.
2009 Darwin Awards Winner:
"The city of Dinant is the backdrop for this rare Double Darwin Award. Two bankrobbers attempting to make a sizeable withdrawal from an ATM died when they overestimated the quantity of dynamite needed for the explosion. The blast demolished the building the bank was housed in. Nobody else was in the building at the time of the attack.
Robber One was rushed to the hospital with severe head trauma; he died shortly after arrival. Investigators initially assumed that his accomplice had managed a getway, but the second bungler's body was excavated from the debris twelve hours later. Would-be Robbers One and Two weren't exactly impoverished–their getaway car was a BMW."

Organisers say the annual "prize" is given to "those doing the most to improve the human gene pool … by removing themselves from it".
This year the dubious first place went to the pair of bungling thieves in Belgium who wildly overestimated the amount of dynamite they needed to rob a bank. They both were killed when the blast demolished the entire building the ATM was housed in. Police only found the body of the second robber some twelve hours after digging through the debris. They had initially assumed he had made a getaway. The bankrobbers just edged ahead of Florida man Shawn Motero, who was stuck in a traffic jam when nature called. He got out of his car and jumped over a concrete wall to find a more secluded spot. Unfortunately, the 30-year-old had not realized he was on a bridge and fell 65ft (19.8m) to his death.
Award organisers said the accident proved you should "look before you leak".
Police revealed Mr Motero had been drinking at a bar in Pompano Beach before his tragic death, adding: 'He probably thought there was a road, but there wasn't.'
The first woman to be nominated for the award came in at third place.
Rosanne Tippett drove her moped through a police road block – straight into a flooded river. After being rescued by police she jumped back into the water to rescue her vehicle – and drowned.
Before embarking on her final journey the 50-year-old had phoned her mother and told her: "My moped has two rubber wheels, Mom, I'll be fine." Her mum later admitted: "She loved that thing."
Other nominees for the 2009 awards included an armed robber who used gold spray paint to disguise his face as he raided a convenience store.
The paint released toxic fumes and Thomas James, from South Carolina, collapsed and died shortly after the robbery.
To add insult to injury, the disguise didn't work – with witnesses having no problem identifying the 23-year-old.
SOURCE: http://www.darwinawards.com