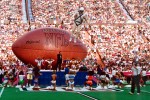 Super Bowl 2010 kickoff will probably occur a little after 6:30 PM Eastern Standard Time on February 7, 2010.
In previous years, various sites listed various start times, usually down to the specific minute. For Super Bowl 42, FOX (which was broadcasting the game) announced a kickoff time of 6:17 p.m.; the NFL said 6:18 p.m.; and the site hosting the Super Bowl said 6:30 p.m. It turned out that the actual kickoff was at 6:32 p.m.

So if you'd like to hear some of Journey's performance and catch some of the pre-game hype, turn on your TVs by 6 p.m. But don't expect the game to actually start before 6:30 p.m.
United States times by region:
6:30 p.m. Eastern
5:30 p.m. Central
4:30 p.m. Mountain
3:30 p.m. Pacific
Quick additional info for Super Bowl 2010:
* Date: Sunday, February 7, 2010
* Location: Dolphin Stadium in Miami, Florida
* America The Beautiful: Queen Latifah
* National Anthem: Carrie Underwood
* Halftime: The Who
* Super Bowl Number: 44 (XLIV)