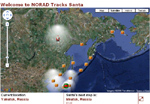 Several years ago, we added another holiday tradition to our list — helping NORAD keep tabs on Santa every Christmas Eve.NORAD's Santa-tracking dates back to 1955, when a Sears and Roebuck magazine ad in Colorado Springs accidentally directed readers to call NORAD instead of the "Talk-to-Santa" hotline they were advertising.
Embracing the holiday spirit, the folks at NORAD provided callers with Santa's location according to their radar and have tracked his journey ever since. Many years later, in 2004, the same holiday spirit inspired us to use Google Earth — it was called "Keyhole Earth Viewer" back then — to display Santa's voyage around the world on Christmas Eve. Google hosted the entire tracker on a single machine and were excited to have an audience of 25,000 following St. Nick's flight with us that night.

Santa in Fuji, Japan:

Google's scrappy Santa tracker has come a long way since 2004. Google added "Santa-cam" videos for select locations around the world, 3D SketchUp models of Santa's sleigh and his North Pole home, the official feed of Santa's location from NORAD headquarters and several other improvements. With more technical resources to support this richer experience, and the wonderful efforts of Their Santa-tracking team, 2008 was the biggest year ever for NORAD Tracks Santa — more than eight million people tuned in to track Santa last Christmas Eve.
On this Christmas, remember, the joy that you give to others, is the joy that comes back to you. So be joyful and make others joyful too! Merry Christmas!
EpidemicFun.com
Track Santa With NORAD SANTA!