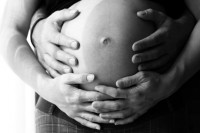 Being pregnant brings enough challenges itself, without having to worry about how you look in a bathing suit!
Most women feel self conscious enough in bathers when they are not pregnant, so being pregnant in the heat of summer is not something that most people would look forward to! However, swimming or enjoying yourself in the water is very enjoyable for most pregnant women as the feeling of weightlessness is a huge contrast to how they normally feel, especially in the latter stages of the pregnancy.
But if you are planning to get out and about in the pool or the beach whilst pregnant, then there are some tips that you should follow when deciding which bathing suit to buy:
1. In the early stages of pregnancy, you can probably use your old bikinis without too much trouble. These days being publicly pregnant (aka showing off your pregnant belly) is not socially taboo anymore.
2. Make sure you choose something that is made of durable and good quality material. Especially if you are buying a tankini or a 1 piece suit, you want something that can last both the stretch and the wear and tear without any problems.
3. There are so many different styles and designs to choose from so definitely shop around and pick something that makes you feel good. From bikinis, to tankinis, one pieces and wraps – all these different styles can disguise various parts of your body or give you support in the bust which is critical in the later stages of pregnancy.
4. Solid colors are the safe option and dark colors do create a more flattering silhouette, but there are also bathers that have ruching around the bust that draws attention away from 'troubled' areas and highlight your other assets. If you enjoy wearing color, then you won't be disappointed with the range of colors and prints on offer these days with pregnancy bathers.
5. If you have a heavier bust, then a halter neck top is probably the way to go. Also ensure that the straps are not too thin so that it supports the weight of your bust.
6. Wraps, kaftans, sarongs and skirts are great for hiding those trouble thighs and/or bottom or if you just feel a little self conscious and need something to cover your body up a little more.
7. Make sure you buy bathers that are chlorine resistant if you plan to do lots of swimming in chlorine pools. The bathers will be stretched as it is, so the last thing you want is for the chlorine to attack the elasticity of the bathers.
We are fortunate that in today's society, being publicly pregnant is not taboo or frowned at. It is a beautiful time in a woman's life and should be celebrated and enjoyed.
Swimming or spending time in the pool is a great way for you to relax whilst being pregnant. And feeling comfortable and stylish in the pool is the icing on the cake!
Article Source: http://EzineArticles.com/?expert=Melanie_Coleman