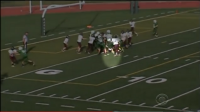 The Olivet Eagles football team at Olivet Middle School in Olivet, Michigan, decided to run a play and intentionally not score, all without their coaches knowing. The football team planned the play for weeks, all so they could set up a very special moment for a special boy. Keith Orr is a special needs child, and his buddies on the football team decided to give him the chance to run for a touchdown.

Sheridan Hedrick, a player on the team, would've easily scored a touchdown, but he instead took a knee on the 1-yard line, much to the dismay of the crowd. That was until the next play happened: the "Keith Special." The ball was hiked and immediately handed to Keith, who ran forward as his teammates protected him from the oncoming defense. Keith scored without a scratch.
The boys did much more than help Keith score a touchdown; they brought a community together.
"Yes I'm excited and happy that he made a touchdown, but what have these boys showed this community? That's what gets to me," said Keith's mother, Carrie Orr, to WILX. "They've got his back. And he knows it."
We can all learn a lot from the boys on the Olivet Eagles, as they have shown a certain sense of humility and understanding many of us adults struggle with.