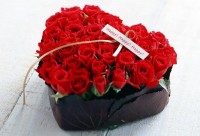 Valentines Day is the day of love, a day to express your feelings for the special one. It has been always tough to choose a gift for someone special while options out there are vast. And on the occasion of Valentines Day it becomes tougher as it reflects the love, the care the feelings of yours for your beloved one. Here are some of the tips to help you out in selecting them for your valentine.

Well it's always better to keep in mind the interest of your valentine while choosing a gift for him/her. Guys are mostly fond of practical gifts, the gifts which can be used again and again or the gifts that are fun.
Instead of going for one major gift you can opt for a collection of gifts for your man like T-shirts, novels, accessories for car or bike, DVDs or so on a collection which they itself say a lot.
The idea of subscribing to one his favorite magazine or a smart card is always better. Many are even fond of tech gifts like games and game stations, portable media players, etc.
Be Original. Well a fresh bunch of red rose can always do the magic. To make it more romantic  you can make it deliver to her workplace with a beautiful love note. You can also take help of Valentine flower delivery services to prepare the bouquet for her.
Guys can go for jewelry. But be sure of her taste before purchasing it. A diamond or a heart shaped pendant can always do the magic .
Dresses and lingerie can also be a very creative idea. You can give her something which she was longing to buy but didn't due to some reasons or a sexy outfit which can make both of you enjoy.
You can get arrange a spa for both of you. Either you can arrange it in your home or any nearby place. If you arrange it at home make sure to create the atmosphere like some scented candles, bathtub full of rose petals, bubble bath , etc. and last but not the least don't forget to arrange the warm towels.
A designer handbag can serve the idea of a perfect gift for your girl on Valentine day. There is rarely any woman who does not love fashionable bags. There is a wide range of handbags to be selected from.
A candlelight dinner is always a huge favorite. Make sure to plan it out beforehand according to your budget and convenience. You can also plan the same at your home, make all the arrangements right from the table to that romantic background music and of course the food.
Chocolates are the all time favorite valentine gifts. One can get the special Valentine-day themed chocolate or the special chocolate bar with the message "Be mine" wrapped in a red paper, or a collection of chocolates of your valentines' choice.
Valentine's Day shouldn't be the day of any cards and flowers only, but it should be a day where you can express your feelings for each other and show how much you appreciate each other.