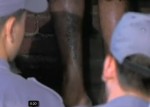 A Brazilian would-be burglar tried to make a discreet entrance into a bar in Sao Paulo, but had to shout for help once he got trapped inside the chimney on Tuesday (February 23) night.
His cries for help were heard by a woman who lives next door to the bar. When the bar's owner, Cleia Baldonedo, arrived home after midnight, she was surprised by the ambulance and fire truck parked outside her bar.
Baldonedo walked inside and saw the suspect's feet hanging from inside the chimney.
Fire fighters spent more than one hour trying to free the soot-covered man before finally breaking away part of the chimney with hammers.