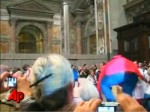 A woman jumped the barriers in St. Peter's Basilica and knocked down Pope Benedict XVI as he walked down the main aisle to begin Christmas Eve Mass on Thursday. Pope Benedict XVI was not hurt during the incident ,he quickly picked himself up. A woman who pushed the pope appeared to be mentally unstable and had been arrested by Vatican police. She also knocked down Cardinal Roger Etchegaray, who was taken to hospital for a check up.
After the incident, Benedict, flanked by tense bodyguards, resumed his walk to the basilica's main altar to start the Mass. He did appear somewhat shaken and leaned heavily on aides and an armrest as he sat down in his chair.
Benedict made no reference to the incident as the service started. As a choir sang, he sprinkled incense on the altar before opening the Mass with the traditional wish for peace in Latin: "Pax vobis" ("Peace be with you"). The faithful responded: "Et cum spiritu tuo" ("And also with you").