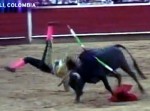 12-year-old bullfighter Michelito Lagravere is out of danger after being gored twice by a bull during a match at the Plaza de Toros in Cali on Sunday.
Michelito was carried sobbing from the bullring in Cali on Sunday after being tossed in the air by a bull nearly 10 times his weight. His father brushed him off and encouraged back into the ring to finish the fight but within minutes the boy, who stands just 4ft 9in tall, was again knocked to the ground by the bull's horns.
He was treated for cuts and bruises at a local hospital, where doctors said his injuries were "superficial", and discharged hours later.
"He suffered a beating but it was nothing serious," said his Mexican mother, Diana Peniche Marenco. "It was a bad afternoon for him but he is eager to continue."
The precocious toreador, whose full name is Michel Lagravere Peniche, is already a veteran of the bullring having started his chosen profession at the age of five, under the tutelage of his father, Michel Lagravere, a retired French matador.
Since that time Michelito has participated in more than 150 corridas across Latin America. He has become a symbol of a child welfare debate in a region where promoters see baby-faced bullfighters as a way to draw in the crowds.
The local human rights commission tried to ban the event citing child protection laws but the petition was kicked out by the courts.