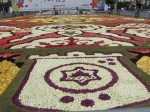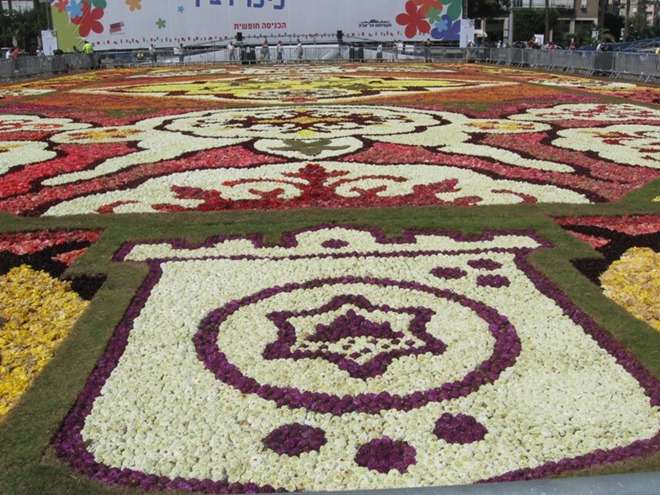 The city of Tel Aviv continued its year-long centennial celebration on Wednesday, with the installation of a sweeping carpet of flowers in the city's Rabin Square, received as a gift from the city of Brussels.
The half-million flowers used to compose the colourful carpet arrived from Belgium on Wednesday morning, after being held-up in the airport overnight due to aircraft problems and bureaucracy.
Annette Katz works for the mayor's office in Brussels, and helps oversee a flower carpet they produce in Belgium every couple of years. She travelled to Tel Aviv help install the floral display.

"It was a little complicated, you know, over the rules of bringing flowers. And first we start with Israeli flowers because – it will be much interesting, but they couldn't have enough flowers at the same time. They don't have enough flowers, and they don't have begonias, which is a flower which can stay in the heat for one or two days without water," Katz said.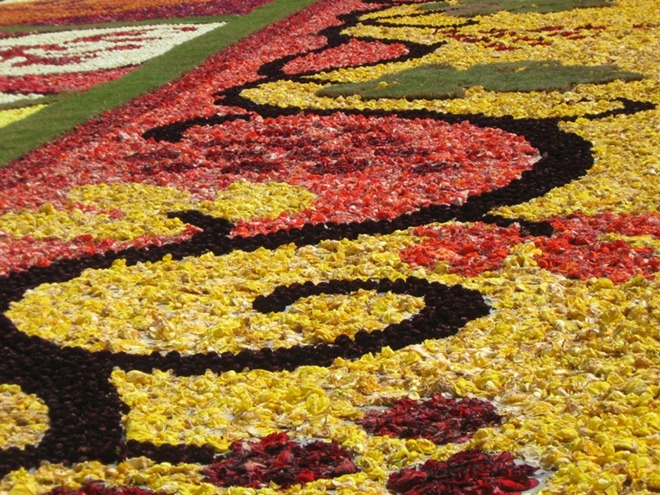 More than a 100 volunteers, under the supervision of a special team of experts from Brussels, helped to place hundreds of thousands of daliah and begonia flowers.
The carpet's design is a homage to the history of Tel Aviv and is inspired by the classic tiles and murals found in the homes of the city's founders. "This design is very special, by an artist by the name of Adi Yekutieli, and it's a kind of the old tiles they used to build the old houses of the city of Tel Aviv," Tel Aviv's mayor Ron Huldai said.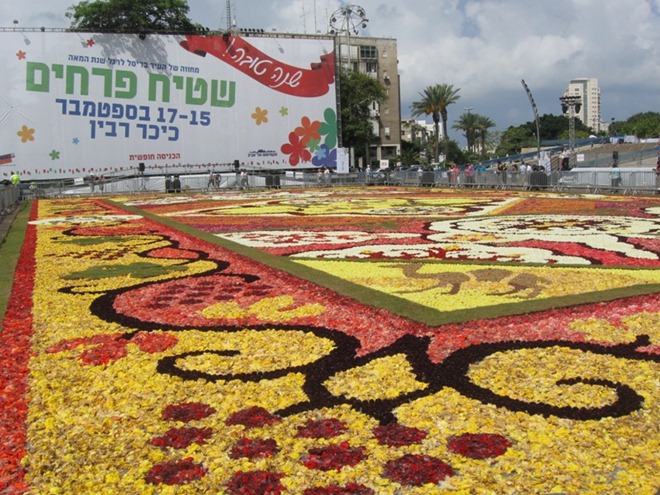 "I think it's a great thing. The colours are great. And the motifs of the Middle East – like camels that I see here, Tel Aviv motifs, some other things – it's nice. It's special," Eyal Cohen, a Tel Aviv resident said.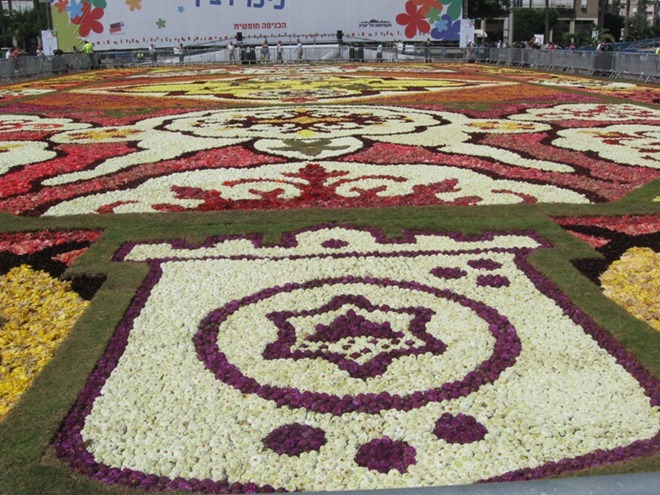 "It's very beautiful, this flower carpet. I want to thank very much, to the Brussels municipality, for the present to Tel Aviv for hundredth birthday. It's really beautiful," Varda Biran, another Israeli visitor to Rabin Square said.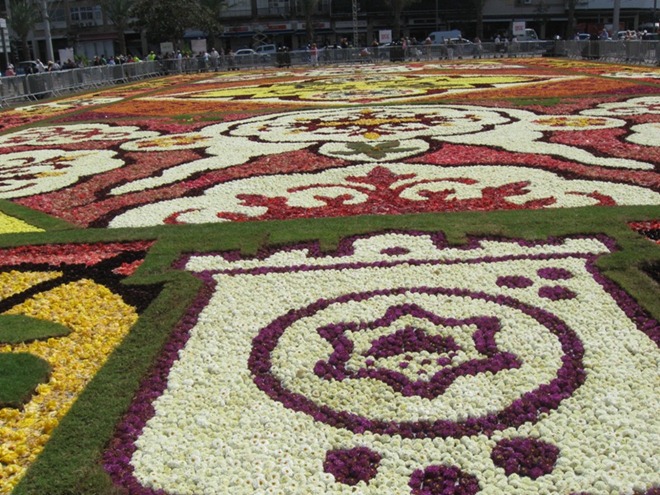 Tel Aviv municipality's website says the city was founded in April 1909 by a group of Jewish residents of the nearby Arab city of Jaffa. They were tired of their harsh living conditions under Ottoman Turkish rule so sixty families signed up for the new neighbourhood, that was set to be independent of Jaffa city.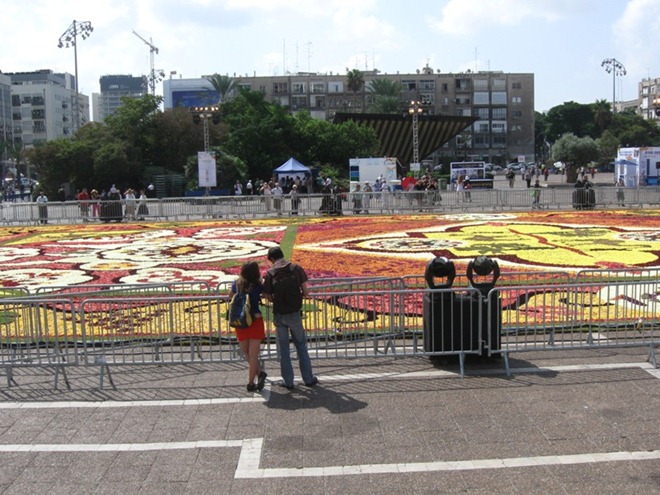 The website adds that land was purchased and the plan was to build a wide and green city, unlike the urban density they knew in Jaffa. The land was divided to 60 plots.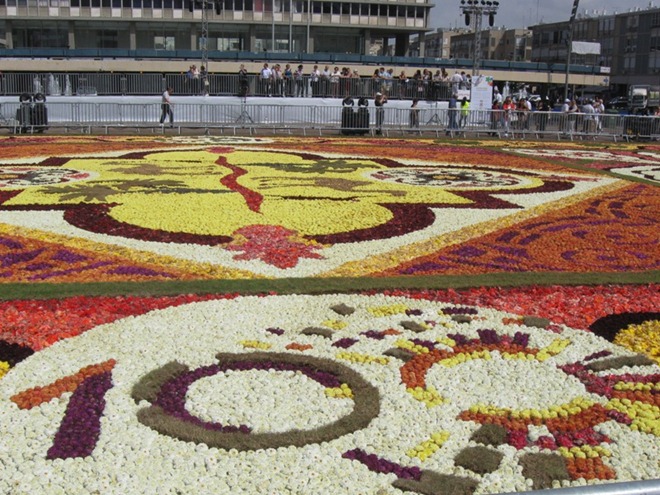 About 2 million people live in the greater Tel Aviv area – about 30 percent of all Israelis. Of these, 380,000 live in the city of Tel Aviv, which now incorporates the ancient port of Jaffa.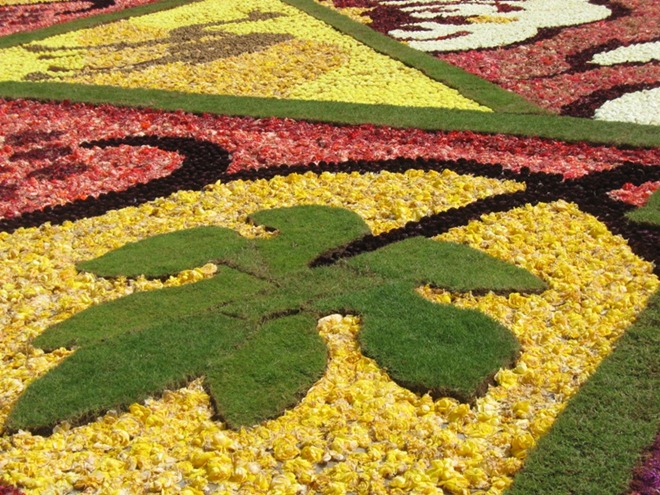 Tel Aviv is largely a secular city and Israel's business capital. The area is home to the Jewish state's main international airport and stock exchange, as well as many of its biggest companies.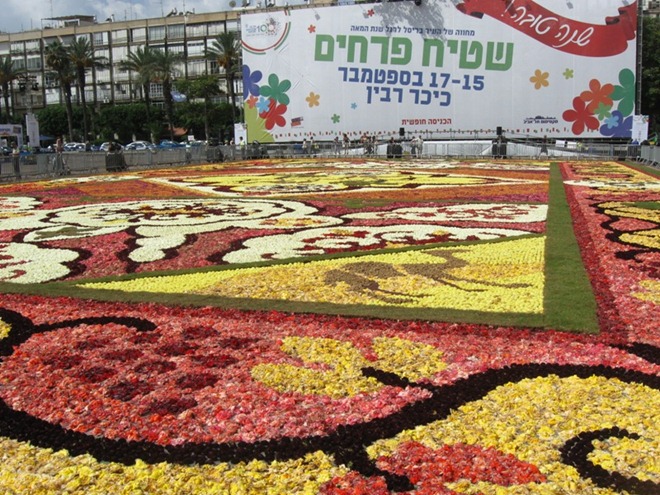 Also dubbed the "White City", Tel Aviv boasts many 1930s Modernist-style buildings inspired by Germany's Bauhaus school and was declared a World Cultural Heritage site by UNESCO.